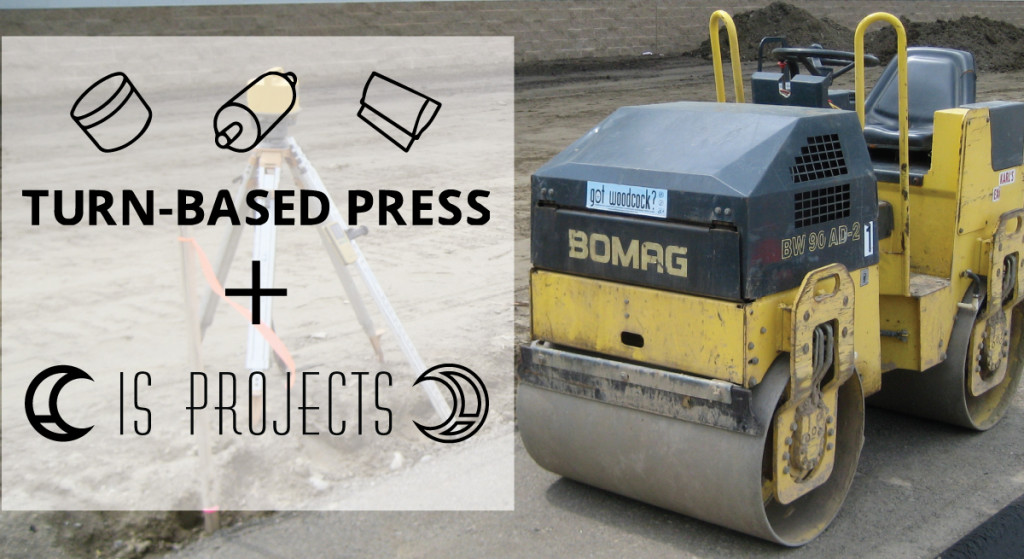 Large Format Relief Printing Workshop at Turn-Based Press with IS Projects

The workshop, held in collaboration with Ingrid Schindall of IS Projects and with the printing assistance of Nick Gilmore, will focus on the creation of mid-scale relief blocks that will be printed by steamroller during DWNTWN Art Days, September 2015.
Meets for 3 sessions:
Saturday, August 29
10 AM – 1 PM—Intro to Carving @ Turn-Based Press
Saturday, September 5
10 AM – 1 PM—Proofing @ Turn-Based Press
Saturday, September 12
11 AM – 2 PM—Invitational Steamroller Relief Printing Session @ Turn-Based Press during DWNTWN Art Days 2015
The Large Format Relief Printing Workshop with IS Projects at Turn-Based Press will teach participants the fundamentals of how to cut, proof and print a relief block in the first two sessions. The final session will be a steamroller-printing event which will occur during the annual, 3-day long celebration of art in downtown Miami: DWNTWN Art Days. This printing session will also be open to members of the community who wish to print their own large-scale blocks who pre-register with Turn-Based Press (contact KH@turnbasedpress.com).
In the first session, each student will learn how to "think print" when creating their own image to carve into the block as well as receive tips and tricks to carving large format relief images.
In the second session, students will learn how to ink up and print their blocks on an etching press and we will go over hand printing techniques for printing without a press at home.
The final result is a large-scale, steamroller-printed artwork composed of a matrix of the blocks produced as part of the workshop. Each student will leave the class with their block, proofs from the etching press, and a large-scale steamroller printed piece containing their image and the images of their classmates.
Workshop Cost: $140
Includes Materials; deposit required for the loan of some tools for take-home use.
Registration sign-up at this link.