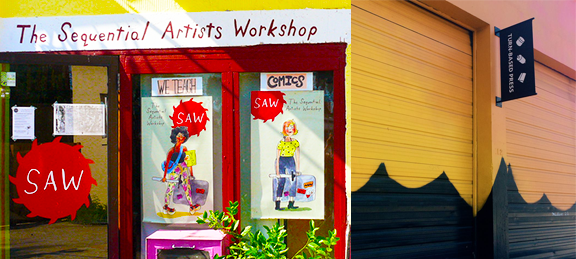 This year's DWNTWN Art Days event will run from September 19 – 21st. Turn-Based Press will be hosting two events, a workshop and a related exhibition.
The workshop, Comic Art Workshop: Draw and Print! will be a five hour long story-building and screenprinting adventure lead by Tom Hart, the Founder and Executive Director of the Sequential Artists Workshop, a free-standing school for comic art in Gainesville, FL, and Kathleen Hudspeth, Founder and Co-Director of Turn-Based Press. The workshop will be held at Turn-Based Press, Saturday, September 20, from 10 AM to 3 PM.
For more information about the Comic Art Workshop, visit our Workshops page; space is limited to 14 participants, and the fee is $50.
The exhibition, Tell It To My Face, will feature works from SAW as well as works by local artists, and will be an exhibition of works on paper, prints and artists' books focusing on narrative content and storytelling. Tell It To My Face opens Saturday, September 20, with a reception from 7 – 11 PM. It will also be on view for DWNTWN Art Days on Sunday, September 21, from 11 AM – 2 PM.
More information about DWNTWN Art Days events can be found here.