Our inaugural print effort is one that we think is amusing; Functional Print Series (One), is a series in which we depict items we need.  They're printed as simple screenprints from hand-drawn positives, and they're quirky loving renditions of common printshop items that we'll have to acquire.
With this series, we're also playing with the idea of the edition as a commercial strategy.  During this era of nearly infinite repeatability, editions are seldom restricted by the physical limitations of the process, as they were in days of old.  Lots of folks think of editions as if an edition were merely the opposite of an exclusive, unique, expensive art object.  In printmaking circles, however, there are ideas about editions being non-localized conceptual presentations, the artifact of wear or error enforcing limitations on production, a varied yet repeatable statement, and so on.
What we've done is tallied the costs for the depicted items, then divided that by the number of impressions.  Each impression (excluding We Need to Pay People!) is therefore valued at 1/60 of the cost of these items we need.  Should Turn-Based Press be given any of the depicted items, that value will be subtracted from the price of the total cost, which lowers the cost per impression.
At this moment, each impression is valued at $187.00; the total cost of all the equipment (new, though I shopped competitively) would be $11,227.68.
We're also amusing ourselves by setting a value on the works which is not associated with an artist's market value.  Though I personally drew, exposed, printed and signed them, they function only as a product of the press.  I even signed them KH/TBP rather than my usual signature.
The prints were installed for the Art Basel Miami Beach Open Studios 2012 event, but they'll be coming down this week as we make some space for a Young Arts exhibition.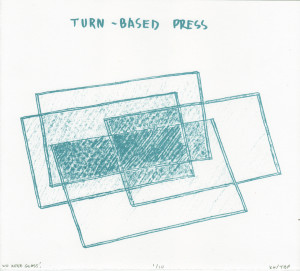 Created as a kind of tanget to the above series, the print We Need to Pay People!, stands alone.  We valued it differently.  It starts at a base price of $50 per impression (edition of 10), but then we ask the purchaser to pay whatever amount they like on-top of that.  This reflects upon the fact that a lot of labor in the arts is done unpaid, or as a volunteer effort.
We Need to Pay People! is a two-run screenprint on a buff-colored paper.  The print has a gloss coat (which appears more sparkly than flatly shiny), and is signed on the back.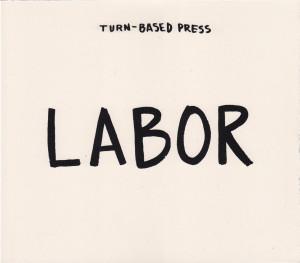 When you purchase one from the edition, it will come with a Certificate of Authenticity, which will include a small essay explaining the series.  A PDF of the text is below.
Functional Print Series One text, Turn-Based Press, Dec 2012
*This post slightly repeats and adds to a previous post about the Functional Print Series.